Breanna Warner, Marketing Director
We all have our own issues and insecurities, we can be our own worst enemy, but it all comes back to self love.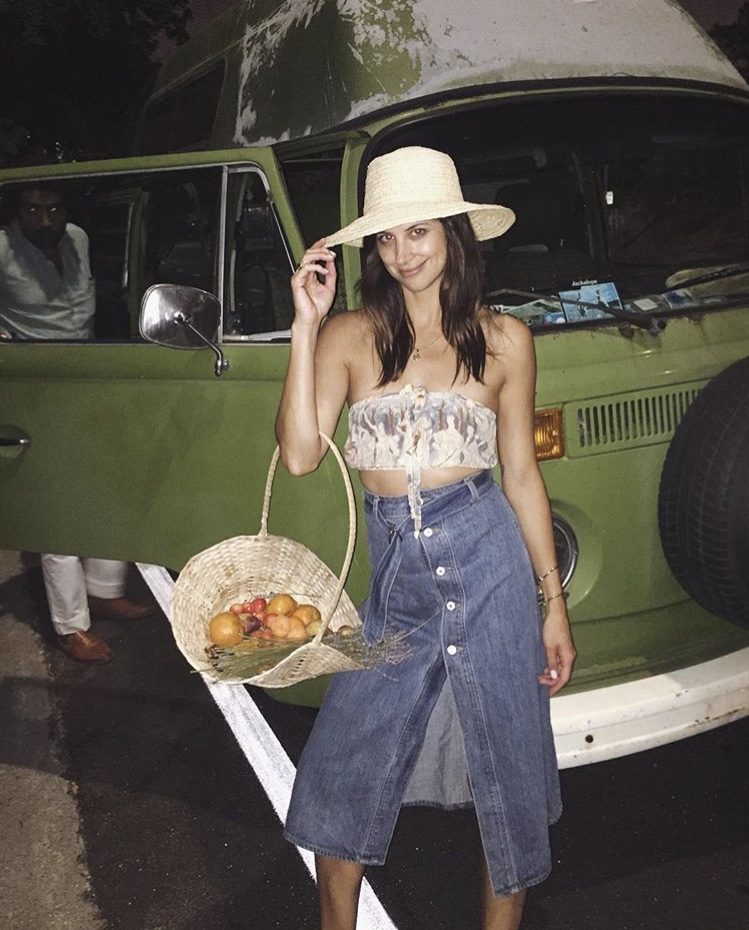 I'm from a small town in the Sierra Nevada foothills called Angels Camp where I grew up on my 100-year old family ranch, it is truly a special place. I count my lucky stars for being so fortunate to grow up in such an incredible place and with such a close knit, loving community. We were always outdoors which I feel is so much a part of who I am – a lover of nature and a great respect for mother earth. I think the best thing I can take away from that is to just be your natural self, let your true self shine. We all have our own issues and insecurities, we can be our own worst enemy, but it all comes back to self love.
Working in fashion, I'm constantly surrounded by fleeting fads and sometimes vain ideas of what we should do or wear or be but I try and keep it all in perspective. Fashion does not define me, my personal sense of style is just a layer within it. My mom taught me to love the things that make you, you – She used to count the freckles on my face and I thought that was so cool. So instead of covering them up, I like them to show.
SPF
My grandma was a sun worshipper, basking in the rays with a bikini and baby oil so my idea of sun protection was No-Ad SPF 4 in my stocking but I quickly learned that SPF is one of the most vital things we can do to prevent sun damage and aging. It's one of the most important parts of my routine and I apply it every morning by mixing Clarins UV Plus Anti-Pollution Sunscreen SPF 50 with my moisturizer, Embryolisse Lait Crème Concentrè. I love French products, they are clean and simple and easy to get over the counter when you're in Paris!
Hair
I'm pretty low maintenance. My hair is best when it air drys with a little wave. My mom was a hairstylist when I was younger so she always cut our hair, I learned a few basic tricks and now trim my own bangs. They can sometimes be annoying and oily but every time I say I'm going to grow them out, I'm back in the bathroom trimming them again. Dry shampoo is crucial though, my fave is Living Proof PHD. I buy it in both sizes so I can always have the travel size in my purse or straight off the plane. I use Aesop Shampoo & Conditioner but only wash my hair every other day or so, I hate it when my hair is too clean.
LA Baby
I moved to LA after college (SDSU baby), I think it's been 9 years now, which is blowing my mind to think about! I first moved to Mid City because this little country girl had no idea about the big metropolis except that I wanted to live close to work. My girlfriends and I quickly realized that was not our zone and moved to Silverlake where I was for six (wild, crazy and fun) years and now live in Eagle Rock/Highland Park area. It was so important to me to find a small community within the big city and I think that is the beauty of Los Angeles, it has so many diverse silos and neighborhoods that come together to make up one big beautiful city.
I love the water and the ocean and am sometimes sad that we live an hour's drive (with traffic) to get to the beach but I am a mountain girl at heart and I love being near the Angeles Forest where you can hike and see snow in the winter 30 minutes from our house. I do know my boyfriend would certainly appreciate a lesser commute to surf but both of our friends and communities are on the east side. You are able to get more space, a yard, and there's a lovely creative culture that is a huge part of our life.
I'm truly inspired my group of friends. They all have such unique individual styles that speak to who they are and how they see the world. I love being surrounded by such a strong, diverse group of women. We are in such a pivotal time and I see the energy and strength we have when we come together.
You and Your Boyfriend (Miles of the Allah-las) are Goals
Aw shucks, thank you! I feel so lucky that we found each other in this wild world. We have a very strong love and mutual respect for one another, it's a special thing.
I'm pretty quick to get ready! We both travel so much and especially when we are on the road, I'm in and out in under 20 mins. But I am a self-admitted over packer, which almost makes it harder to decide. I usually weigh on the side of comfort with a sense of femininity. I'm a lover of prints and color but have been finding myself wearing a lot of neutrals lately, maybe it's been the weather. When in doubt, I defer to my Levi's and a tee.
Beauty
If I use anything for my face, it has to be lightweight – I started using Koh Gen Do Aqua Foundation and I love it, barely feels like there's anything on your skin. Then a little Glossier Haloscope on the cheeks, Dior Show mascara and RMS beauty illuminizer. I love that dewy look so I make sure I'm super moisturized before putting anything on and also use a serum for a little extra love – the ones I'm using are Caudalie Vinoperfect Radiance Serum, iS Clinical White Lighting and Grown Alchemist Rosehip Oil. And don't forget your SPF!
If we (Miles and I) are traveling, I make sure to bring rose water spray to stay refreshed and Everyday Oil (my new favorite product!), it smells delish and I no longer use lotion. I have the smaller bottle for travels and the big one in my bathroom.
In Her Bag
Living Proof PHD Dry Shampoo, Burt's Bees chap stick, RMS beauty illuminizer, Noto Botanics Multi-Benne Lip and Cheek Stain, Byredo perfume roller, Weleda Skin Food hand cream and SPF – either Clarins UV Plus Suncreen 50 or Avene Mineral Ultra-Light Suncreen 50+.
Travel in Spanish
Mexico is one of my most favorite places. My last trip was special because I went with a large group of friends and it doesn't get much better than that. I'm crazy about sun protection because my skin is sensitive to hyperpigmentation. I bring so many hats and always have one if I'm at the beach or in the sun. I even wear one when I'm on a run or a hike. I also make sure to reapply my SPF throughout the day. There are two products I really love that help with sun protection and hyperpigmentation – iS Clinical White Lighting Serum and SkinCeuticals C E Ferulic Antioxidant. I rotate these into my day and night routine. I also drink a TON of water to make sure my skin and me stay hydrated with all the sun (and tequila).
Health
My motto is – everything in moderation. My Dad is in health and fitness and would always tell us that. I never want to feel deprived of the things I enjoy eating, life is too short, so I am all about ice cream or a hamburger. Just not every day.
But I do really love healthy food, your body just feels good from within when you nourish it properly. We had a garden growing up with fresh fruits and vegetables and I have them with every meal. I don't take very many supplements as I think it it most important to get your nutrients directly from the source but I do take a probiotic every morning for that gut health and liquid b12.
Wine on the other hand, it's a daily thing. If that's my vice, so be it….at least it's of the earth!
Skin
Recently, I tried to simplify my routine. There are so many products out there with the beauty industry booming and I had SO many products, it was overwhelming. In the evening, I take off my makeup with Micellar Water and wash with a gentle cleanser either Avene Antirougeurs Cleaning Lotion or Kiehl's Ultra Facial Cleanser (they have a great travel size as well.) I then put on either Retinol Reform by Shani Darden, then a thick moisturizer or oil because it can be very drying and lastly my eye cream. I have been using Kiehl's Avocado eye cream for years, it's thick and hydrating or Caudalie Vince Active Soothing Eye Cream for a lighter feel. The next night, I will rotate in my SkinCeuticals C E Ferulic Antioxidant, a moisturizer or oil and under eye cream. In the morning, I don't wash my face just rinse it with warm water and apply 3 products – serum, moisturizer and sunscreen!
-AS TOLD TO TGH